Amid the devastation of the ongoing floods throughout Queensland and New South Wales, some more positive images are emerging that show just how much Aussies care for our beloved pet dogs in a time of crisis. Some pet insurance providers are also informing customers that could help be at hand if their pet needs emergency accommodation due to the floods.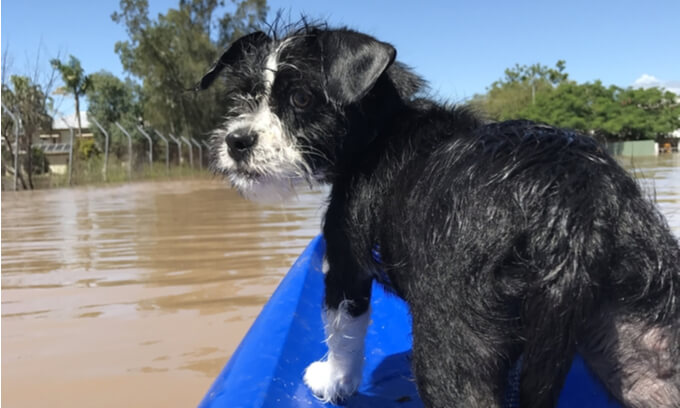 Australians are a nation of pet lovers, and in times of crisis, we want to make sure our beloved animal companions are looked after. This past week has seen floodwaters inundate the east coast, with torrential rain falling from the Sunshine Coast to Sydney, and a great many people have had to evacuate and watch in heartbreak as homes go under.
But while much of the news lately has been grim, there's a glimmer of hope on social media, with photos emerging that show the efforts to rescue workers and ordinary people alike have been putting in to ensure animals stay high and dry amid the downpour.
These below photos, shared by Rescue Hub, show residents of Lismore with their pets as the region faces its worst flooding crisis on record. Click the arrows on the image to see them all.
It's highly likely that many dogs along the east coast have been experiencing cabin fever, unable to venture out too far in the wet, but as the sun has started to return, some dogs have ventured out to survey the floodwaters.
This Brisbane pup is well-prepared.
Does your pet insurance cover emergency accommodation for floods and disasters?
If you have been displaced or evacuated from your home during the ongoing flood emergency, you may be concerned about bringing your pets with you. If you have pet insurance, it could be worth checking if your policy will cover some of the cost of emergency boarding for your pet.
'Emergency boarding' cover is generally designed to provide a payout if the policyholder is hospitalised and needs support looking after their pet, but some providers are now extending this cover so that it applies to customers directly impacted by the floods in New South Wales and Queensland .
Insurance provider Bupa recently messaged customers to tell them that until 30 March 2022, all of its pet insurance policies would cover emergency boarding for insured pets affected by the NSW and Queensland floods. Customers are advised to email help@petsure.com.au for support.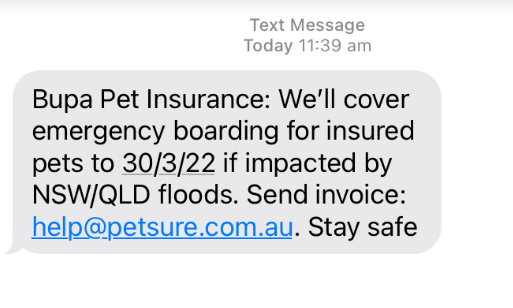 Bupa's pet insurance is issued by The Hollard Insurance Company, which also issues insurance via a number of other pet insurance brands in Australia, so it may be worth contacting your provider to check if this extended cover might also apply to you.
If you're unsure about what your own pet insurance policy may cover in relation to emergency boarding and any limits or exclusions that may apply, you can check the Product Disclosure Statement (PDS), the Target Market Determination (TMD) and your certificate of insurance for details, or contact your provider as soon as you can to find out about what you are and aren't covered for.
What can you do if you need financial assistance amid the flood crisis?
If you have been affected by the flood crisis in Queensland and NSW, whether you have been forced to evacuate your home or seen your property suffer damage, there are various sources of financial support that you may be able to access for you and your family.
The Commonwealth and state governments have various grants on offer for people affected by the flooding disaster, while Australia's big four banks have begun to roll out a variety of financial aid measures for customers dealing with the crisis.
take pictures of the damage to your home and contents, if possible
keep samples of damaged materials for insurance assessment purposes, if possible
ask your insurer about any benefits your policy may have such as temporary accommodation, and
ask your insurer if your policy allows for advance payments, as some will offer this.
You can also call the Insurance Council of Australia (ICA) hotline on 1300 728 228 if you have concerns over your policy or are not happy with the benefits that have been offered.
Cover image source: Anni Mac/Shutterstock.com
---
Thanks for visiting Canstar, Australia's biggest financial comparison site*